ECOWELLNESS is the first standard worldwide to combine ecological, health-promoting and social parameters.
The ECOWELLNESS standard and label make sense if you want to generate a real and great USP. You can use sustainability and organic topics of your company, system or product together with health-promoting, social and ethical aspects and combine it into a standard, which is the highest and most innovative on the market. This will even secure your innovations and make a real difference on the market. It is the "Mercedes Benz" among the standards. And the best does not know alternatives!
Our strengths are high flexibility, interdisciplinary scientific consultancy and worldwide research and sales together with our partner IFOAM. We are offering pro-active, profit-oriented Sales- and Marketing assistance in the sectors Health and Medical through our network.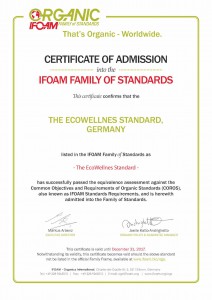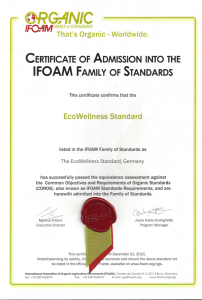 The entrance requirements are not as difficult as they look. For a restaurant, canteen or catering service, a separate menu qualified by ECOWELLNESS would already be enough. For an Ecowellness – Hotel, some criteria like the room quality, water and air quality and energy aspects would have to be added, or you just get the hotel restaurant certified.
A company introducing a basic health insurance can start "learning by doing" with just a pilot-group, a package for primary prevention (Information and Training) and for secondary prevention (Metabolism – Diagnostic – Set plus separate menu or separate shelf/refrigerator). A certification and labeling in these cases would require a contract covering about 1-3 years.
An agricultural producer or processor can start with just one product if they can ensure the identifiability of their product. A technical instrument or process for health ensuring or promotion purpose needs to be certified by a certifier like TÜV, DEKRA, INTERTEK or similar for its technical or medical-technical safety prior to certification of additional ECOWELLNESS criteria like medical benefits, price value or scientific background. We can also accompany you and show you the way to successful pre-certification.
Our vision is profit and benefit for EVERYBODY through passion, science and professional marketing as well as reasonable products and services.
Click here for our Fact Sheet: EcoWellness FAQ's